Eid Mubarak Wishes
24. Eid is a day to cheer and to laugh with all your heart. It's a day to be grateful to Allah for all of his heavenly blessings on us. Wishing you a happy Eid.
25. I wish you and your family a very joyful Eid. May Allah accept all your prayers and forgive all your faults. Eid Mubarak!
26. Eid Mubarak! Seize the moment and be happy. Because very little is needed to make a happy life, it's all within yourself and your way of thinking.
27. May this Eid brings you joys unlimited, may all your wishes come true on this holy day, and may you and your family is blessed by the grace of Allah. Eid Mubarak!
28. He is the One GOD; the Creator, the Initiator, the Designer.
29. Verily, we are Allàh's and verily to Him shall we return. (Holy Quran – 2:156)
30. Except for those who are patient and do righteous deeds; those will have forgiveness and great reward. (Al-Qur'an 11:11)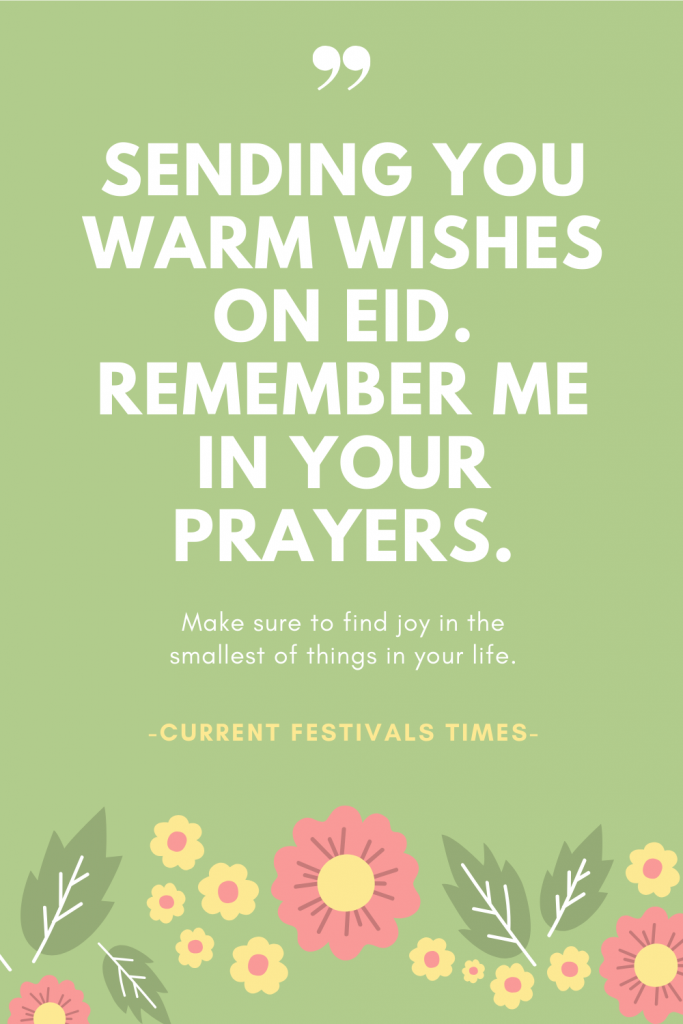 31. Sending you warm wishes on Eid. Remember me in your prayers.
32. May Allah accept your sacrifice and fulfill your desires in life. Wishing you a very happy Eid!
33. Hold to forgiveness, command what is right; but turn away from the ignorant." [7:199]
34. May Allah open the doors of happiness and prosperity for you. Eid Mubarak
35. The holy month of Ramadhan is about to end. It is my hope that we shall all put into practice the invaluable gems of wisdom we have acquired in the month of Ramadhan. Advance Eid Mubarak to you all.
36. Advance Eid Mubarak to all my friends and family. Have a lovely Eid filled with laughter, good food and shared moments of joy.
37. Whomsoever Allah guides, there is none that can mislead him. [39:37]
38. The men and the women who remember Allaah much with their hearts and tongues. Allaah has prepared for them forgiveness and a great reward [al Ahzaab 33:35]
39. May this Eid bring joy and love to your heart and create all the opportunities of success for you! Eid Mubarak.