---
Abdul Kalam Quotes on Dreams
---
Dreaming is the first step towards achieving a goal.
Click To Tweet
1.Life has a way of pushing our dreams down. Don't let first victory bury your biggest dream.
2. You have to dream before your dreams can come true.
A dream is not that which you see while sleeping, it is something that does not let you sleep.
Click To Tweet
3. "This is my belief: that through difficulties and problems God gives us the opportunity to grow. So when your hopes and dreams and goals are dashed, search among the wreckage, you may find a golden opportunity hidden in the ruins." ~ Abdul Kalam
4. "While children are struggling to be unique, the world around them is trying all means to make them look like everybody else." ~ Abdul Kalam
5. If you want to shine like a sun, first burn like a sun.
It's very important for you to believe that you are the one.
Click To Tweet
6. "Let me define a leader. He must have vision and passion and not be afraid of any problem. Instead, he should know how to defeat it. Most importantly, he must work with integrity." ~ Abdul Kalam
7. "A Fool can become a Genius when he understands he is a Fool but. A Genius can become a Fool when he understands he is a Genius." ~ Abdul Kalam
8. "Be active! Take on responsibility! Work for the things you believe in. If you do not, you are surrendering your fate to others." ~ Abdul Kalam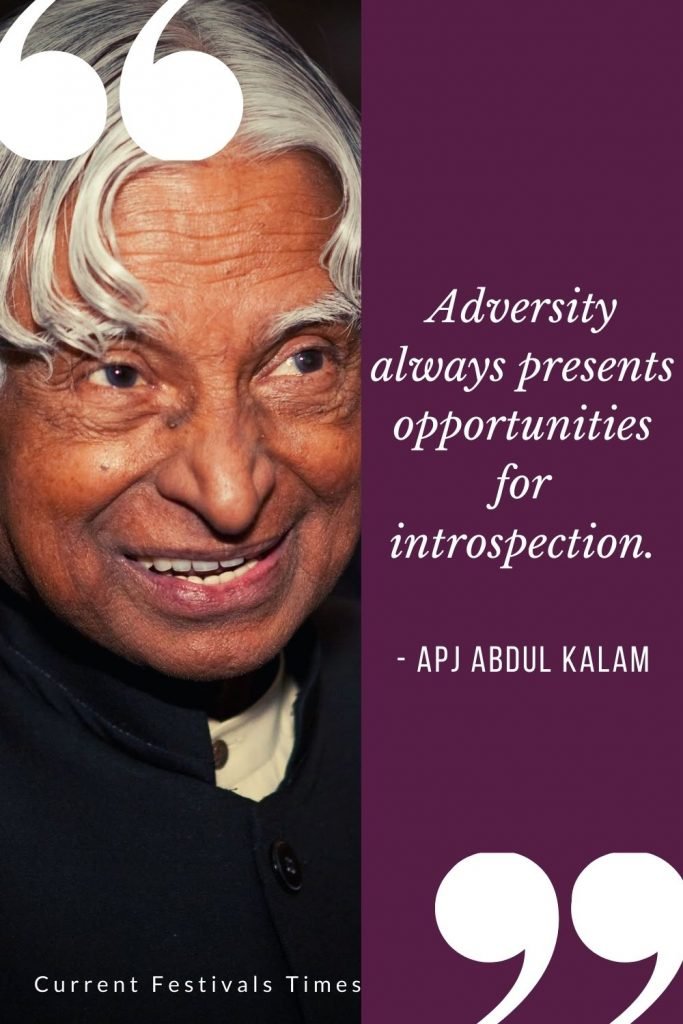 "Adversity always presents opportunities for introspection." ~ Abdul Kalam
Click To Tweet
9. "The best brains of the nation may be found on the last benches of the classroom." ~ Abdul Kalam
10. "There are forces in life working for you and against you. One must distinguish the beneficial forces from the malevolent ones and choose correctly between them." ~ Abdul Kalam
11. Beauty isn't dependent on our external appearance. It radiates from within.
"Dream, Dream, Dream. Dreams transforms into thoughts and thoughts results in action."
Click To Tweet
12. "Great dreams of great dreamers are always transcended "
13. "Thinking should become your capital asset, no matter whatever ups and downs you came across in your life. "
14. "The bird is powered by its own life and by its motivation." ~ Abdul Kalam